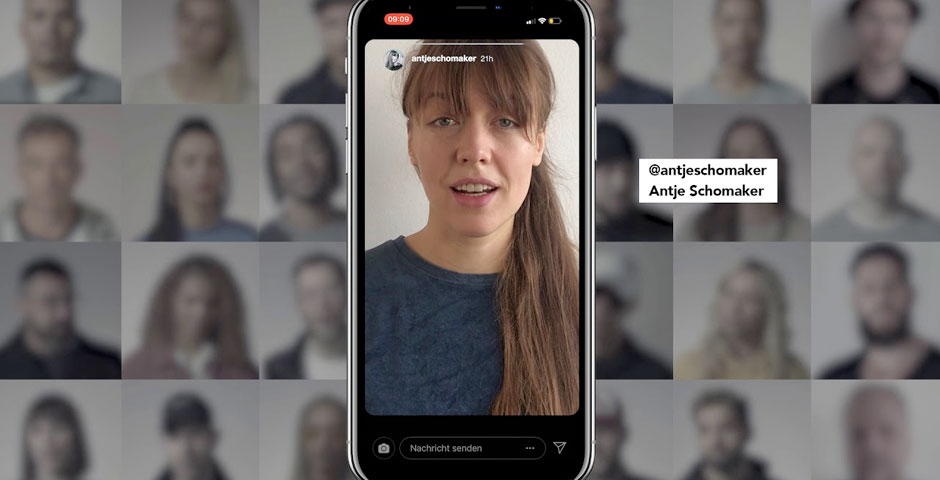 But the day unfollowme.org went live, we were overwhelmed. Not only did countless influencers share and post #unfollowme, their communities joined in.
Describe your Lovie Finalist project. What's the elevator pitch?
Thousands of influencers give hate speech a platform, unintentionally generating immense reach. In 2018, at the peak of social media hatred, over 100 influencers took a stand for their values. They sacrificed their most important currency: their followers. They asked followers with a right-wing extremist mindset to unfollow them. The social web got inspired, and more than 40,000 posts were published with #unfollowme. The reaction: tens of thousands of people unfollowed. A much-needed public debate about values in social media was sparked - with more than 234M impressions. Then something surprising happened. The influencers gained 3 times as many new followers.
What inspired this particular cause as the subject of your work?
Hate speech in social media is on the rise. Right-wing extremists especially are using the anonymity of Twitter, Instagram and Facebook to express xenophobic views and racism without restraint. They only have one goal: to spread hatred, fear and intolerance amongst other users. The immense reach influencers have on the various social media platforms opens broad, accessible channels of communication for every follower. These channels are regularly abused by many right-wing extremists. Together with our client "Loud against Nazis" we wanted to make a statement against such abuse.
What real-world impact were you hoping to make with this project?
Our aim was to open a crucial debate that was as broad as possible. "Loud against Nazis" as the call-out combined with harsh statements should give strong food for thought. We knew that some influencers/participants would lose some of their followers and we were shocked to see the influencers gain 3 times as many new followers (compared to the one's they lost). Those are numbers we like for sure. Because we see it as proof that there are more tolerant and open-minded people out there than there are people who want to spread hatred.
Did your team have a specific "breakthrough" moment when conceiving or executing this project that you can share?
We expected that #unfollowme would go viral in Germany. Because fascist hate speech is unfortunately still a problem in our country. But the day unfollowme.org went live, we were overwhelmed. Not only did countless influencers share and post #unfollowme, their communities joined in. It showed us, that not only well-known influencers are affected by hate speech, their fans are as well.
Was the tech/medium you chose essential to conveying your message? If so, why?
We used Germany's main social media channels - Instagram, Twitter and Facebook. #unfollowme started from accounts owned by influencers and celebrities who shared the values of the campaign and were willing to make a bold statement against hate speech and racism. As well, a website (www.unfollowme.org) was created specifically for the campaign via WordPress.
What was the greatest challenge that arose during your work on this? What about the most rewarding moment?
#unfollowme is a unique campaign, in that it urged people to cut down on their number of followers. Whereas all other social media campaigns focus on growing follower numbers and engagement. As followers are the currency of social media, this is a profound change in how we want people to define how they want to use technology for themselves. No big tech company should decide for them. In the future, we will continue to go against the stream and empower people to use technology the way they want and need, regardless of what Silicon Valley says. Because #unfollowme has proven that values matter more than numbers.
What did you learn in the process of creating this work that you didn't know/expect going in?
We didn't expect to reach so many people so quickly. Almost instantly, more than 40k posts were published with #unfollowme, garnering more than 234M impressions.
See More Lovie for Good Projects
About the Community & Social category
Online campaigns must consist of at least 3 different components, all of which must have been done online. This includes email, banners, websites, online guerrilla marketing, online commercials, and mobile advertising.